For Ford Motor Company (NYSE:) and General Motors Company (NYSE:), 2019 has been a tough year. Both automakers are facing a deep slump in demand in their home market as well as in China, where economic woes and stricter emissions rules are hurting sales.
To deal with this challenging operating environment both companies have announced a major restructuring to revive sales and keep their share prices from weakening. Let's take a deeper look to see where these automakers stand.
Ford — Demand Outlook Remains Weak
The world's second-largest automaker is facing powerful headwinds this year. Ford lost $155 million before interest and taxes in China in the second-quarter, with deliveries to dealers plunging 32%, as the company struggles with an ageing product line in one of the most important markets for its cars.
In North America, where Ford makes much of its profit, shipments for its Explorer SUV model fell in the second-quarter, hurting earnings and shrinking margins. Struggling operations in Asia and Europe prompted Ford to cut its forecast for 2019, signalling the path to profitability will be bumpy for the automaker.
To deal with these challenges, Ford is in the middle of a $11-billion restructuring plan, spread over five years that includes cutting thousands of jobs, rejuvenating its line of SUVs and pickups and abandoning slow-selling sedans.
The company is introducing new versions of its popular Explorer and Escape SUVs this year, and it plans to re-launch its Bronco off-roader in 2020. Ford has also concluded a deal with Volkswagen (DE:) to jointly develop electric and self-driving cars.
As Ford undertakes this massive restructuring exercise to improve profitability and get ready for an era where electric and driverless cars will rule, its stock is showing some signs of life. It has strengthened about 23% since hitting the December low, to close yesterday at $9.34.
Even with this rebound, Ford stock is still down more than 40% in the past 12 months and has traded below $10 a share most of this year amid concerns about the sustainability of its generous $0.15-a-share quarterly dividend.
GM — Benefiting From Local Strength
Just like Ford, GM is also facing weakening demand in its key regions. But the company's latest show significant progress in its turnaround plan execution, and GM has already begun to reap the benefits.
For the second-quarter, GM easily beat analysts' average estimate for profit and maintained its outlook for a stronger second half. Chief Executive Officer Mary Barra continues to expect near-record profit for 2019 as revamped heavy-duty pickups begin rolling into showrooms.
"Our results demonstrate the earnings power of our full-size truck franchise, with more upside to come," Barra said in a statement. According to a report in Bloomberg, the Beefier versions of the Chevrolet Silverado and GMC Sierra pickups are helping GM in a big way.
Each truck sold for about $45,500 in the quarter, roughly $8,400 more than the average transaction price for all the company's vehicles in the U.S. "Since the models are among the top sellers in the industry, they're enormously profitable," it said.
Cost cuts, including the closing of five plants in North America this year, are expected to boost 2019 profit by as much as $2.5 billion. And, according to Chief Financial Officer Dhivya Suryadevara, the series of restructuring moves GM has planned will increase earnings by a total of $6 billion by 2020.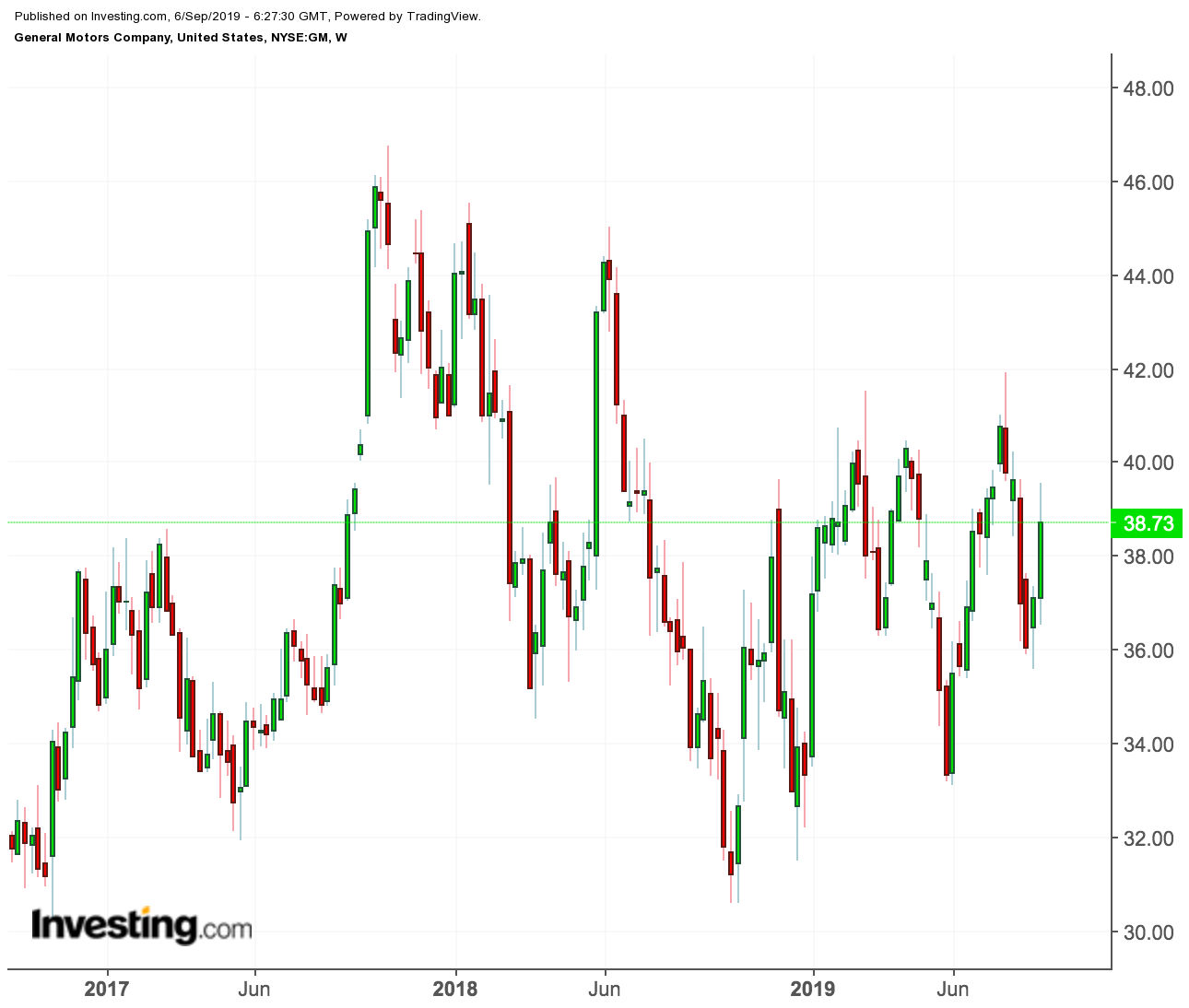 These bullish estimates are propelling GM shares in 2019. Closing at $38.73 yesterday, they've gained 16% this year.
GM's performance in China, however, isn't much better than Ford's. The company said last month its automotive equity income from its operations there plunged 60% to $235 million, and the automaker expects the industry to remain weak through the second half of the year.
Bottom Line
GM's local strength and the successful execution of its restructuring plan is a clear differentiating factor when it comes to comparing the two U.S.-based carmakers. Over the long-run, GM has also proved a better bet than Ford — in the past five years, GM has gained 18% while Ford has lost over 40%. At a time when the future is becoming uncertain for traditional automakers, it's better to stick with a trusted name — and GM is certainly is on a stronger footing.