Three of China's biggest tech companies — Alibaba (NYSE:), Baidu Inc (NASDAQ:), and JD.com (NASDAQ:) — recently reported their latest quarterly results, providing investors with a look at how they're faring amid ongoing trade war fears and the slowing domestic economy. Below we focus on the key takeaways from their respective earnings releases, and what could lie in store for each stock in the months ahead.
Alibaba: A+
Chinese e-commerce giant Alibaba impressed when it reported its latest corporate results for its on May 15, beating estimates on both the top and bottom-lines. Excluding non-recurring items, adjusted earnings per share jumped 50% to $1.28, while revenue increased 51% to $13.9 billion.
While the company's core commerce business remained the key driver of its growth, its diversification into cloud computing is what really grabbed headlines and created excitement among investors. Revenue from the company's cloud computing business surged 76% in the fourth quarter to $1.15 billion.
According to data from IT research firm IDC, Alibaba is now the world's third-largest cloud service provider, trailing only Microsoft (NASDAQ:) and Amazon (NASDAQ:).
"Our cloud and data technology and tremendous traction in New Retail have enabled us to continuously transform the way businesses operate in China and other emerging markets, which will contribute to our long-term growth," Alibaba CEO Daniel Zheng said.
Looking ahead, the company's full-year 2020 guidance called for revenue to grow 32.7% to $74.5 billion.
The Chinese tech giant's focus on the long term and its diversification into new revenue streams is encouraging and should make it a good bet going forward. As such, we continue to expect further upside from here and recommend accumulating shares.
The fact that management appeared unfazed by the escalating U.S.-China trade war is another positive for the company. Joseph Tsai, Alibaba's executive vice chairman, said on the company's post-earnings call that negotiations between Washington and Beijing to address the trade imbalance will favor the e-commerce giant by playing to its strengths, which includes encouraging more imports from outside of China.
Alibaba's stock, which closed at $163.43 on Tuesday, has gained about 19% so far in 2019.
JD.com: B-
JD.com released better-than-expected when it reported earnings on May 10, as the China-focused online retailer enjoyed solid growth in its core e-commerce business.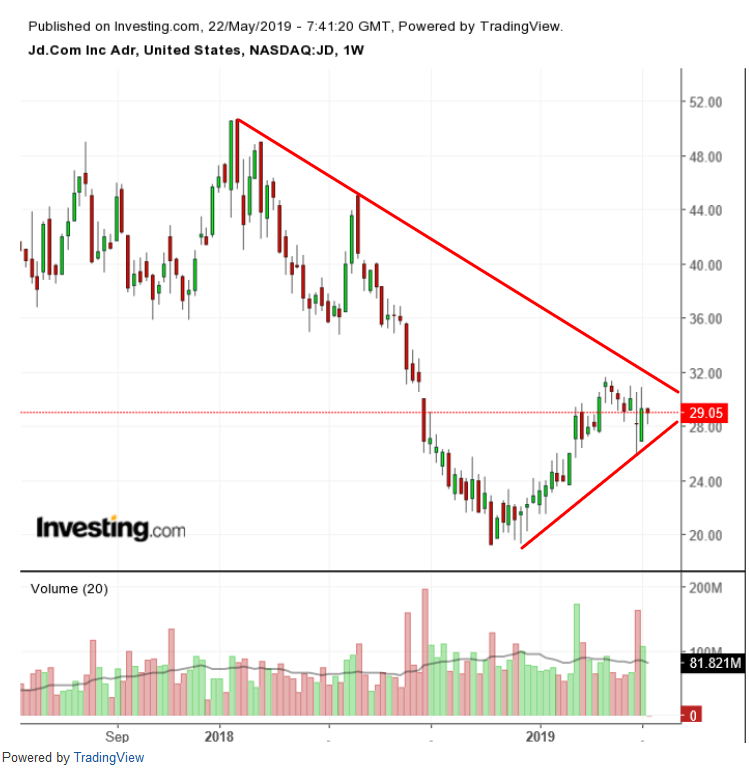 JD's revenue for the first quarter ending March 31 climbed 21% from the same quarter a year earlier to about $18 billion, while earnings per share rose to $0.33 cents from $0.10 cents in the year-ago period.
Despite the strong growth in revenue, it was still the slowest pace since its IPO back in 2014.
Annual active customers on the JD.com platform increased 15% from the year-ago quarter to reach 310.5 million users, but that also marked a slowdown from the growth rates seen in the same quarter from a year earlier.
However, looking ahead, JD.com sounded bullish on its outlook for the second-quarter, telling investors to expect revenue to rise 19%-to-23% to a range between approximately $21.2 billion and $22.0 billion. That was ahead of consensus estimates calling for revenue of $21.34 billion.
JD.com also said it has renewed a strategic partnership with China messaging and gaming giant Tencent Holdings (OTC:) for three years as they both battle to stave off competition from e-commerce behemoth Alibaba. JD.com, which is the second largest e-commerce company in China, expects the alliance to enhance customer satisfaction, reach a larger user base and further grow its presence on mobile commerce.
"We will continue to invest in key technologies and top industry talent as we work to reach an even broader customer base through cutting edge innovation," said CEO Richard Liu.
We expect JD.com – whose shares closed at $29.05 yesterday and have risen almost 39% so far this year – to continue to do well amid indications that its core business remains strong as it cements its position as the second biggest name in China's online retail space, trailing only Alibaba.
Baidu: F
Baidu, the tech firm often described as China's equivalent of Google (NASDAQ:), reported its first-ever since going public almost 15 years ago, and the worst could still be yet to come.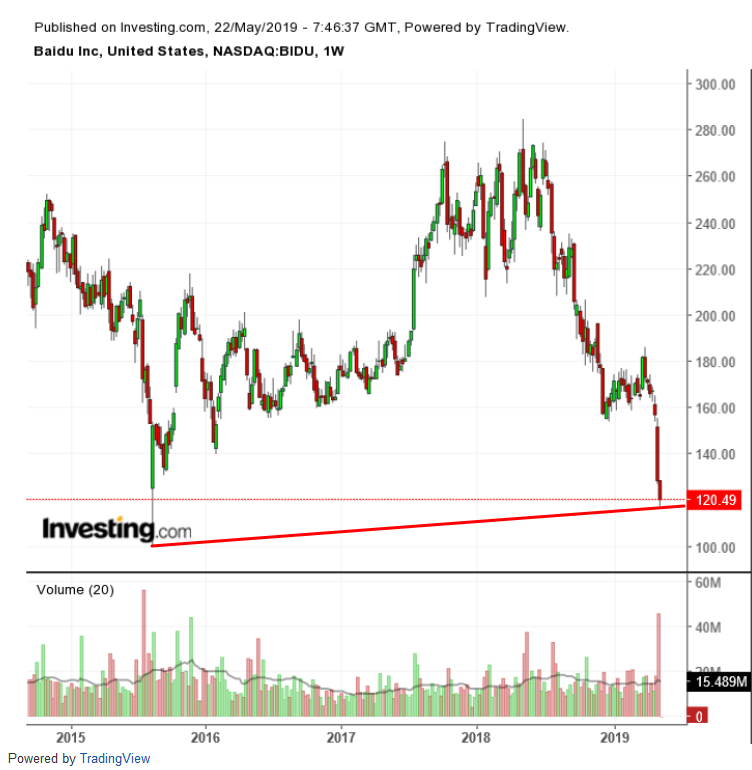 The Chinese search engine company reported a net loss of about $49 million for the first three months of the year when it posted its latest corporate results on May 20.
Baidu CEO Robin Li said the sharp drop in earnings was largely due to China's broader economic slowdown and increased government scrutiny of online content, which had hurt the company's core advertising business.
Online marketing, which accounted for 73% of Baidu's quarterly revenue, rose just 3% from a year earlier to $3.6 billion, signifying a shocking slowdown when compared to previous quarters.
"Although the Chinese government has announced many economic policies to bolster the economy… we are taking a cautious view that online marketing in the near term will face a more challenging environment," Li said during the company's post-earnings conference call.
Compounding worries over the sharp slowdown in its core ad business, Baidu said it expects second-quarter revenue to stay roughly flat year over year, a far cry from the double-digit sales growth it has enjoyed over the past two years.
All things considered, things could get uglier for Baidu's stock before it gets any better. Shares, which closed at $120.49 yesterday, are down 24% so far this year and are off roughly 50% over the past 12 months.