The has been on a wild ride so far in 2019. The blue-chip index suffered a torrid May after an escalation in the U.S.-China trade dispute sparked concerns of a global economic slowdown. However, expectations of a Federal Reserve boosted the Dow, leading to its best June performance since 1938.
With the index up around 15% year-to-date, these top-performing stocks have been leading the charge higher in 2019.
1. Microsoft: +34.4% YTD
Microsoft (NASDAQ:) shares have rallied 34.4% so far this year, making it the best-performing Dow stock of 2019. Shares closed at $136.58 on Tuesday, not far from the all-time high of $138.40 reached on June 24. With a market cap of $1.05 trillion, Microsoft is the world's most valuable company.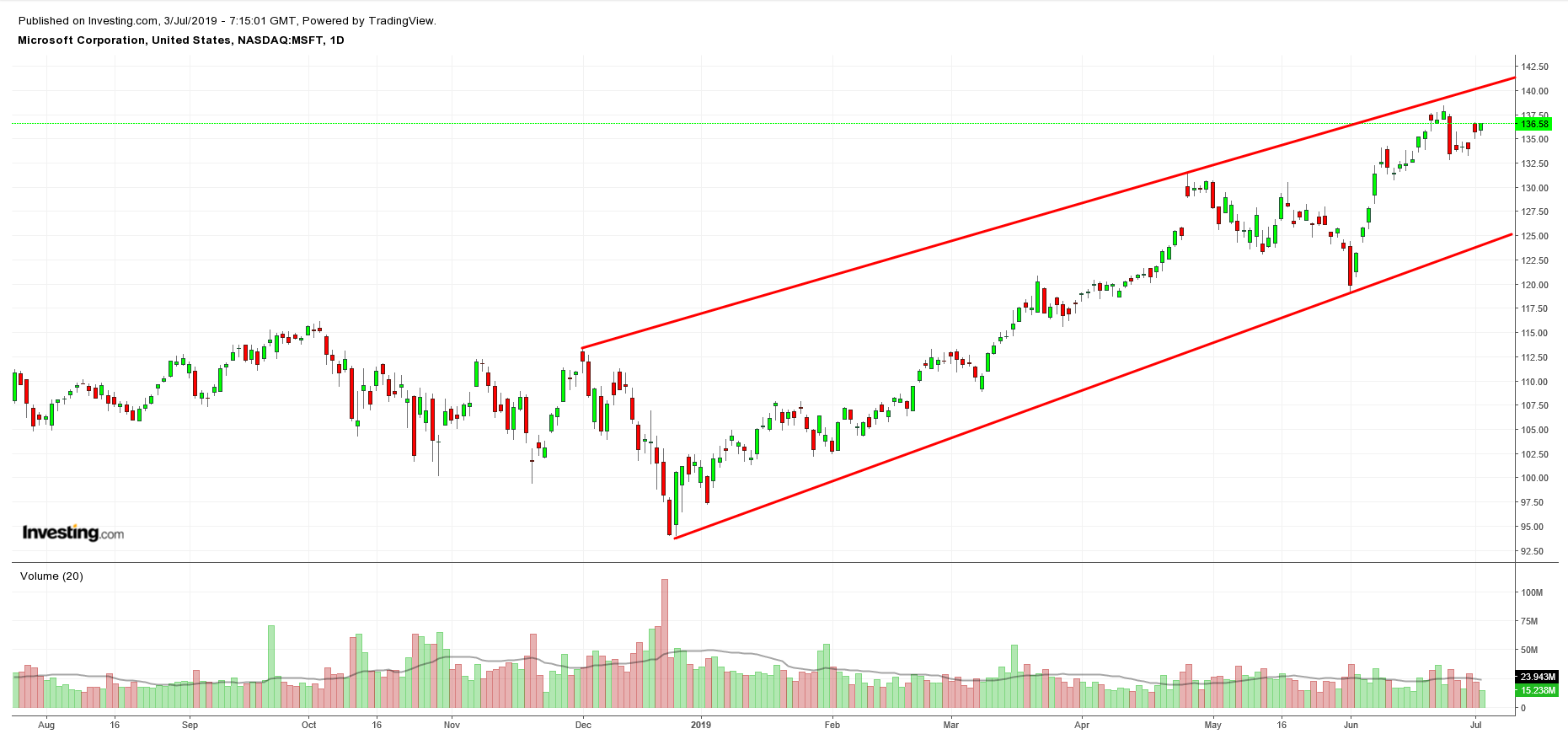 The Redmond, Washington-based software giant has been riding high, thanks to rapid growth in its cloud-computing offerings, which include Azure infrastructure services and Office 365 productivity software. Commercial cloud revenue jumped 41% year-over-year to $9.6 billion in the most recent quarter, while revenue from Azure services surged 73%.
Excitement over its next-generation Xbox gaming console, code-named "Project Scarlett," has further underpinned optimism surrounding the corporation. Despite so far this year, Microsoft's stock still looks attractive going forward, considering the strong demand for its cloud-based services, which has made it one of the true leaders in the field.
2. Visa: +32.8% YTD
Visa (NYSE:) is the Dow's second best-performing equity this year, gaining 32.8% since the start of 2019. Shares ended at $175.29 last night, within sight of its all-time high of $175.54 reached on July 1. At current valuations, the credit card giant is the seventh largest company in the world with a market cap of $383.08 billion.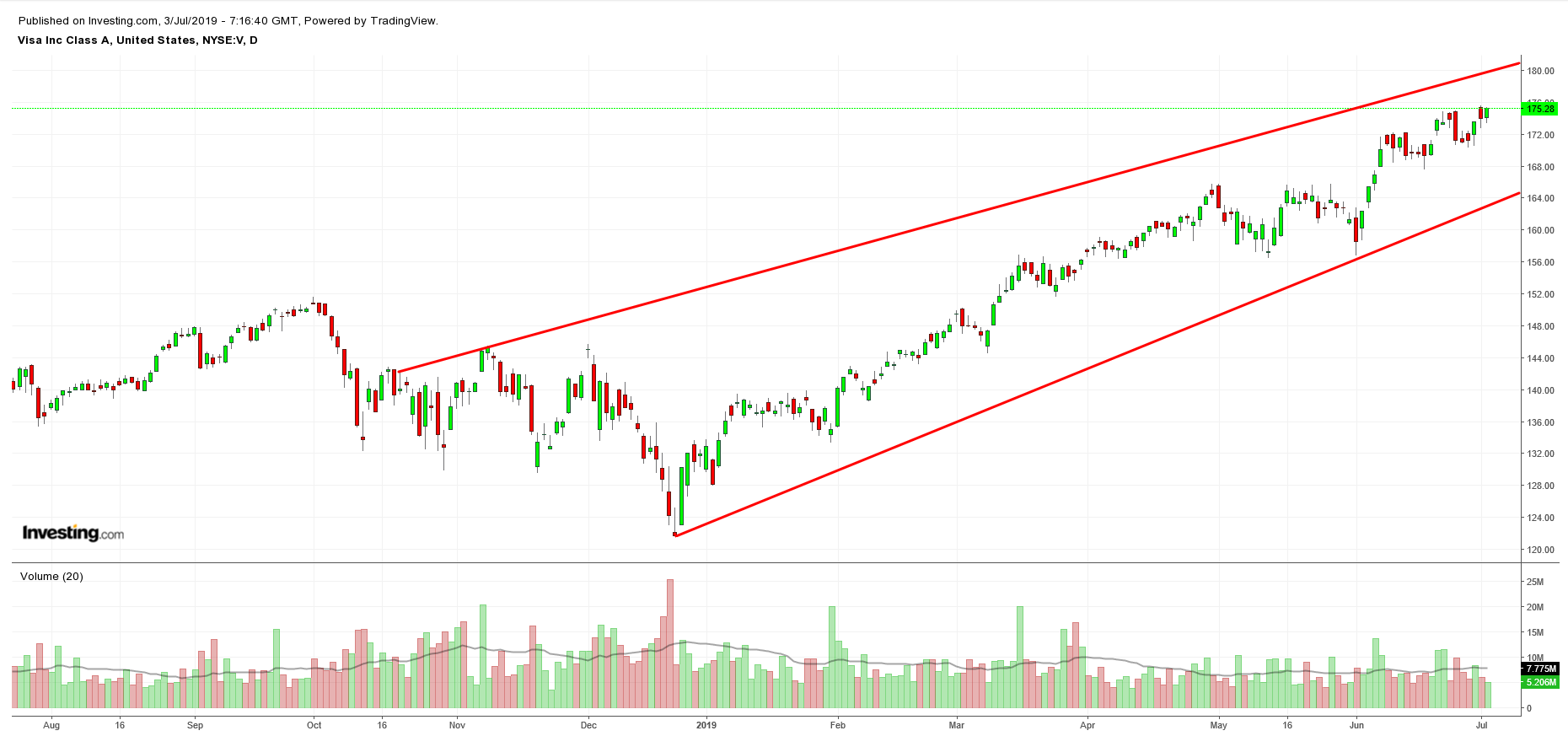 Visa has enjoyed in its payments network, as it benefits from higher credit-card usage rates both domestically and internationally.
With around 3.3 billion credit card users worldwide, Visa processes hundreds of millions of transactions a day, of which it receives a small fee. We anticipate the positive trend in the stock to continue thanks to Visa's status as the world's largest payment processing corporation with operations in more than 200 countries.
3. American Express: +31.2% In 2019
The third top Dow performer of the year is American Express (NYSE:), which has seen shares climb 31.2% year-to-date. After touching a record high of $126.40 on July 1, the stock settled at $125.11 yesterday, giving it a valuation of $104.48 billion.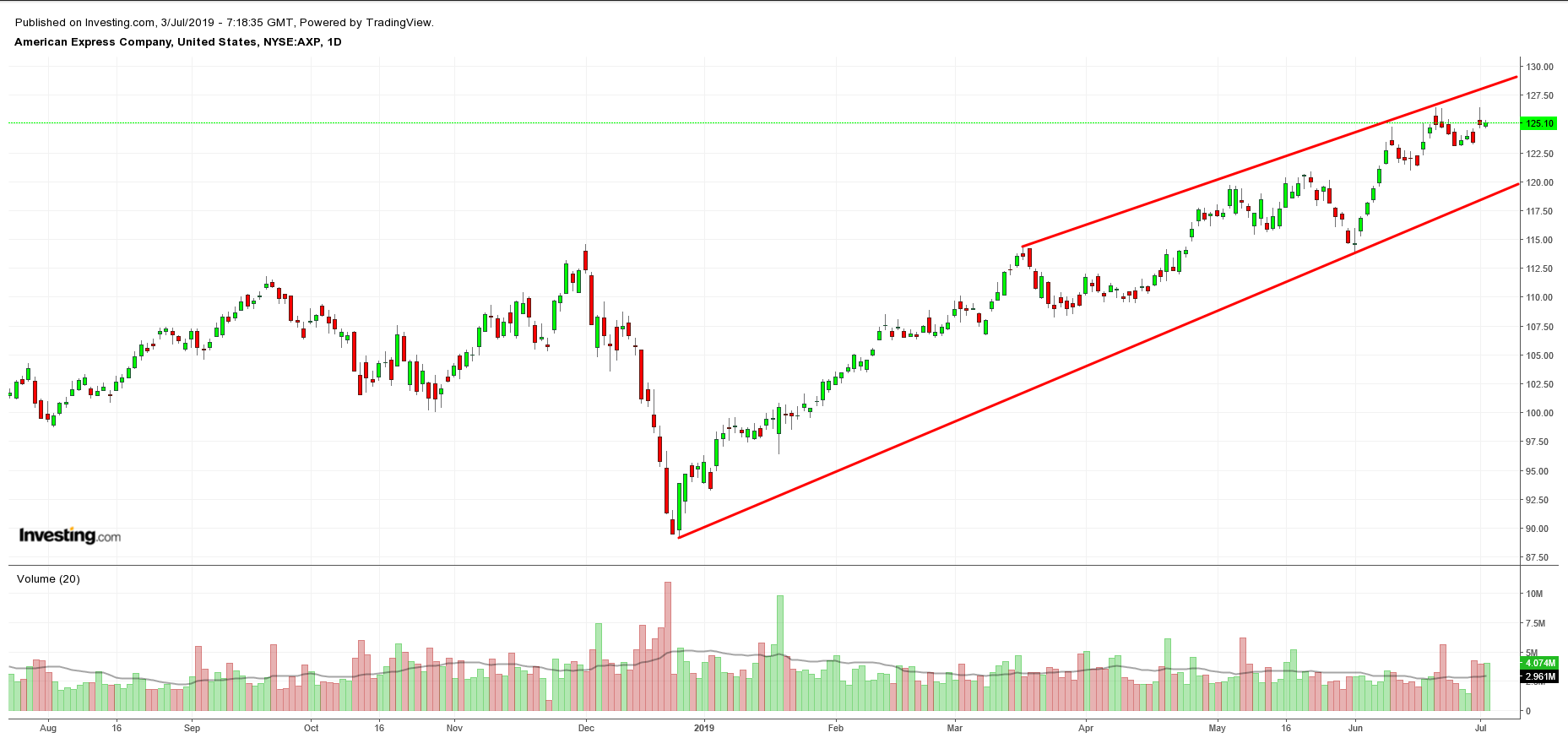 Similar to Visa, American Express has also enjoyed in its payments operation as consumers and businesses alike move toward e-commerce.
Unlike Visa, Amex is both a card issuer and card processor, which enables it to keep a larger portion of fees. As such, we expect American Express to remain one of the best-performing payments processing names in the market.
4. Disney: +30% YTD

Walt Disney (NYSE:) shares are up 30% in 2019, making it the Dow's fourth best-performing equity of the year. The media giant's stock closed at $142.55 on Tuesday, within sight of its record high of $143.51 reached on June 18. With a market cap of $256.55 billion, Disney is the 15th largest company in the world.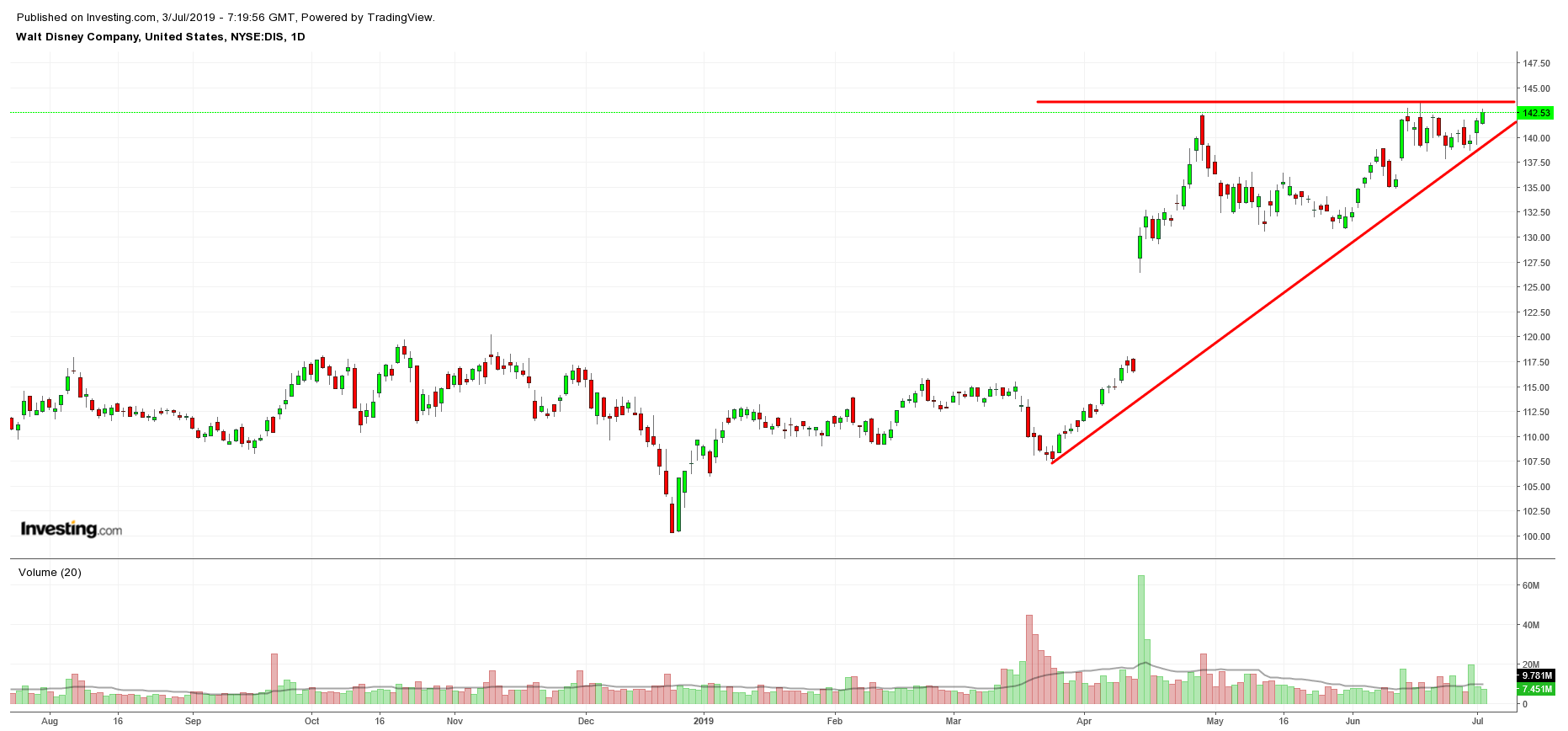 The House of Mouse has surged, as investors gear up for the launch of its highly anticipated Disney+ streaming service. The new platform, which includes access to Disney films and TV shows, along with its Pixar, Marvel, and Star Wars brands, will launch in November at a cost of $6.99 a month.
The media conglomerate is estimating it can attract between 60 and 90 million viewers globally by the end of 2024, making it a serious threat to industry leader Netflix (NASDAQ:).
Another factor that has been giving the stock a boost has been its ongoing dominance of the U.S. box office. The latest installment of the Avengers franchise, Avengers: Endgame, scored the highest box office receipt of the year so far.
The second and third highest-grossing films of 2019 are also Disney movies: Captain Marvel and the recent remake of Aladdin. Taking all this into consideration, Disney remains one of the most promising names in big entertainment.